Understanding Propaganda
It isn't "lies," but rather a Selective Telling of Facts.
Welcome to JoeWrote! This article is for premium subscribers. Thank you for your support!
If you're not a premium subscriber, but would like to read it (as well as support my work advancing people-first politics) you can subscribe here.
Cheers! Joe
---
Used to invoke the evilest images of America's enemies*, the term "propaganda" carries dark and vile connotations. To the average American, its mere mention stokes horrid images of Soviet gulags, Chinese censorship, and other cases of authoritarianism, both real and imagined.
In the American psyche, "propaganda" is understood to mean: "movies, posters, and books that evil governments use to spread their lies." Not only is this definition incomplete, but it leaves the average American susceptible on two fronts.
Not only can propaganda be true, but it can be used to omit key facts, leaving the audience with a warped and incomplete understanding of historic events and modern institutions.
Propaganda Can Be True
First, misuse of the term causes us to believe that anything labeled "propaganda" is untrue. Take for example the below posters from the Soviet Union.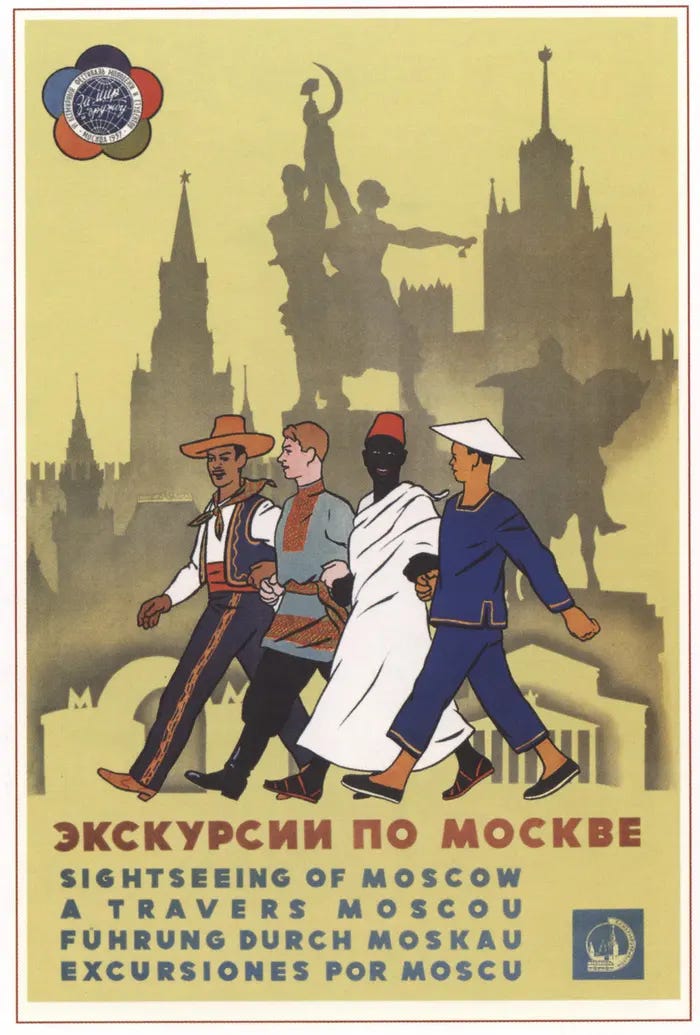 As you'll notice, both posters depict minorities as equal to white people. Racial equality was frequently highlighted by Soviet propaganda, as Capitalist countries (specifically the U.S.) have long histories of White Supremacy, including but not limited to slavery, Jim Crow, and the state-sponsored terrorism of the Ku Klux Klan.
Even if you have severe disagreements with the Soviet Union's economic and social structure, their point about the United State's terrible treatment of minorities is undeniable. Yet if the average American was to consider the above posters as "Soviet propaganda," which really means "lies we shouldn't pay attention to," the average American would remain ignorant of the very-real racial discrimination in our country.
Keep reading with a 7-day free trial
Subscribe to JoeWrote to keep reading this post and get 7 days of free access to the full post archives.